Parish Mission Statement
St. Columba's parish is a vibrant and welcoming community of faith, continuing to give practical witness to the Good News of Christ, through worship and reflection, and through Christian service to the community. 
Welcome to the website of the parish of St Columba, Iona Road, Dublin.The parish of St. Columba is part of the Glasnevin Grouping of Parishes with the parishes of : Our Lady of Dolours, Glasnevin, Corpus Christi, Drumcondra, Our Mother of Divine Grace, Ballygall Road East, Our Lady of Victories, Ballymun Road, in the Archdiocese of Dublin.
We thank parishioners for your contributions to the First and Second Collections at Mass. A Tap and Go machine at the back of the church facilitates parishioners and visitors who wish to contribute to the First and Second collections but who don't carry cash.
A second Tap and Go device has been installed for the benefit of receiving parish contributions.
Contributions to the parish can be made through the 'Donate' button on the parish website: www.ionaroadparish.ie
"All God's creatures got a place in the choir.."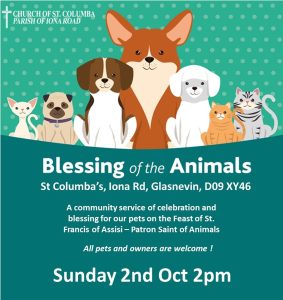 Blessing of the Animals 
in St Columba's Church on Sunday 2nd October @ 2.00pm
A community service of celebration and blessing for our pets on the Feast of  St Francis of Assisi—Patron Saint of Animals
All pets and owners are welcome!
DIOCESAN OFFICES – NEW ADDRESSES
Please note that the Dublin Diocesan Offices are no longer located at Holy Cross College, Clonliffe. Below are the new addresses of the various offices. There may be some delays in the receipt of postal items due to the changes of address. Email and telephone contact information can be found at https://dublindiocese.ie/archdiocese-overview/diocesan-offices/.
Education Secretariat and Lourdes Pilgrimage Office
51 Home Farm Road, Drumcondra, Dublin 9, D09 W5W4
Chancellery, Office for Clergy and Office for Religious & Extern Priests
Archbishop's House, Drumcondra Road Lower, Drumcondra, Dublin 9, D09 H4C2
Dublin Diocesan Archives
204-206 Clonliffe Road, Dublin 3, D03 PD86
Dublin Metropolitan Tribunal
14A Berkeley Street, Phibsboro, Dublin 7
Mission & Ministry and Liturgical Resource Centre
St Paul's Church, 19 Arran Quay, Dublin 7, D07 KX66
Moderator, Finance, Child Safeguarding and all other offices
Dublin Diocesan Offices, 20-23 Arran Quay, Dublin 7, D07 XK85
Please click on image to view Webcam for this service. Mass times may vary.